The Cresto Smartline X is the smallest and lightest emergency personal evacuation device on the market. The device is light enough to be worn continuously thanks to the lightweight and strong Twaron® Aramid rope. The Cresto Smartline X is designed to be used once by one person. However, after use, the device can be sent to an authorised Cresto body for inspection and rope replacement.
The Smartline X can be used in all climatic conditions, with temperatures ranging from minus 25°C to plus 50°C. During wet or humid conditions the user will see a lot of smoke; this is normal.
Descent speed should be between 0.5m/s to 2m/s (metres per second). It is vital to keep control of the tail rope during descent. During long descents (more than 80m) or depending on speed and weight, the descender will get hot. Always wear gloves. The Energy absorber safeguards against peek loads during rigging/descent.
The built-in 3:1 mechanical advantage can be used to lift a user off their equipment during a pick-off rescue.
Designed for use in the following sectors:
Wind, Telecoms, Tower, Oil & Gas, Cranes, Offshore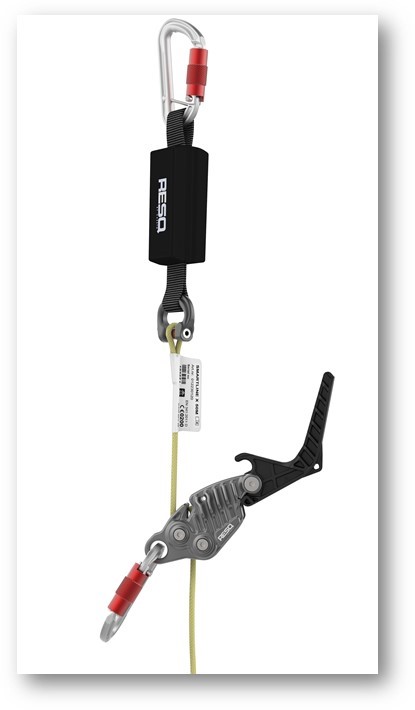 Cresto Smartline X – Specification
Rope: Heat resistant 5.5mm Aramid (Twaron®)
Minimum load: 60kg
Maximum load: 140kg
Packaging: open or vacuum sealed
Standard lengths: 50m, 75m, 100m, 125m, 150m and 200m
Weight: 3.8kg (200m)
Built-in 3:1 progress capture pulley system
RFID
Cresto Smartline X includes:
Smartline X descender
5.5mm Aramid Twaron®rope
Energy absorber
Connecting shackle (between energy absorber and rope)
Karabiner x2
Aramid anchor sling (EN 795 class B)
Red waterproof PVC kit bag
Certification
EN341:2011 class 2D
Life-span
10 years – device
7 years – rope
For further information visit Smartline X