The Lyon Obelisk Quad-Pod is designed and manufactured by Lyon Equipment. The Obelisk (LPP0003) provides an elevated anchor point(s) for combined loads not exceeding 272kg (refer to User Instructions). It's many features and configurations make it a flexible tool in a variety of situations.
Supplied with a 500mm top-beam, which provides a maximum width of 400mm at the cross-head. The adjustable width top-beam allows wider loads to be passed between the two pairs of legs.
The swivel feet enable use of either the flat foot or the spike, depending on the surface. The Obelisk can also be used with dissimilar leg lengths, if dictated by an undulating/uneven surface. However, the top-beam must always be level. The leg restraint straps must always be used as they are essential for the structural stability of the Obelisk.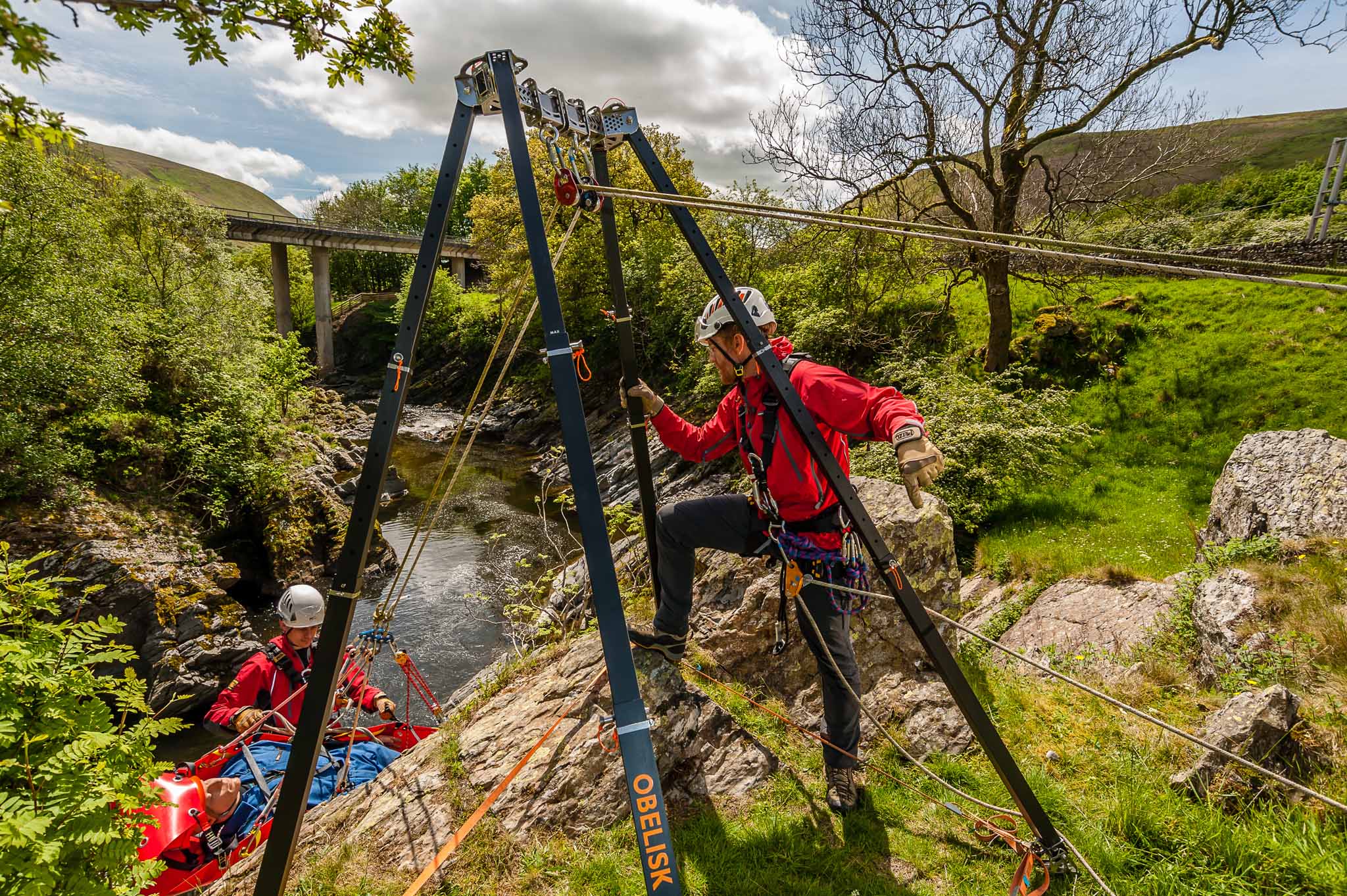 Lyon Obelisk Quad-Pod – 

Product features
3 section telescopic legs (two pairs) for optimum adjustment
500mm top-beam
One carriage with swivel anchor point
Adjustable width cross-head
Captive locking pins provide tool-less locking
'Swivel and lock' feet – load spreading or stainless steel spike
Leg restraint straps
Guy line attachment points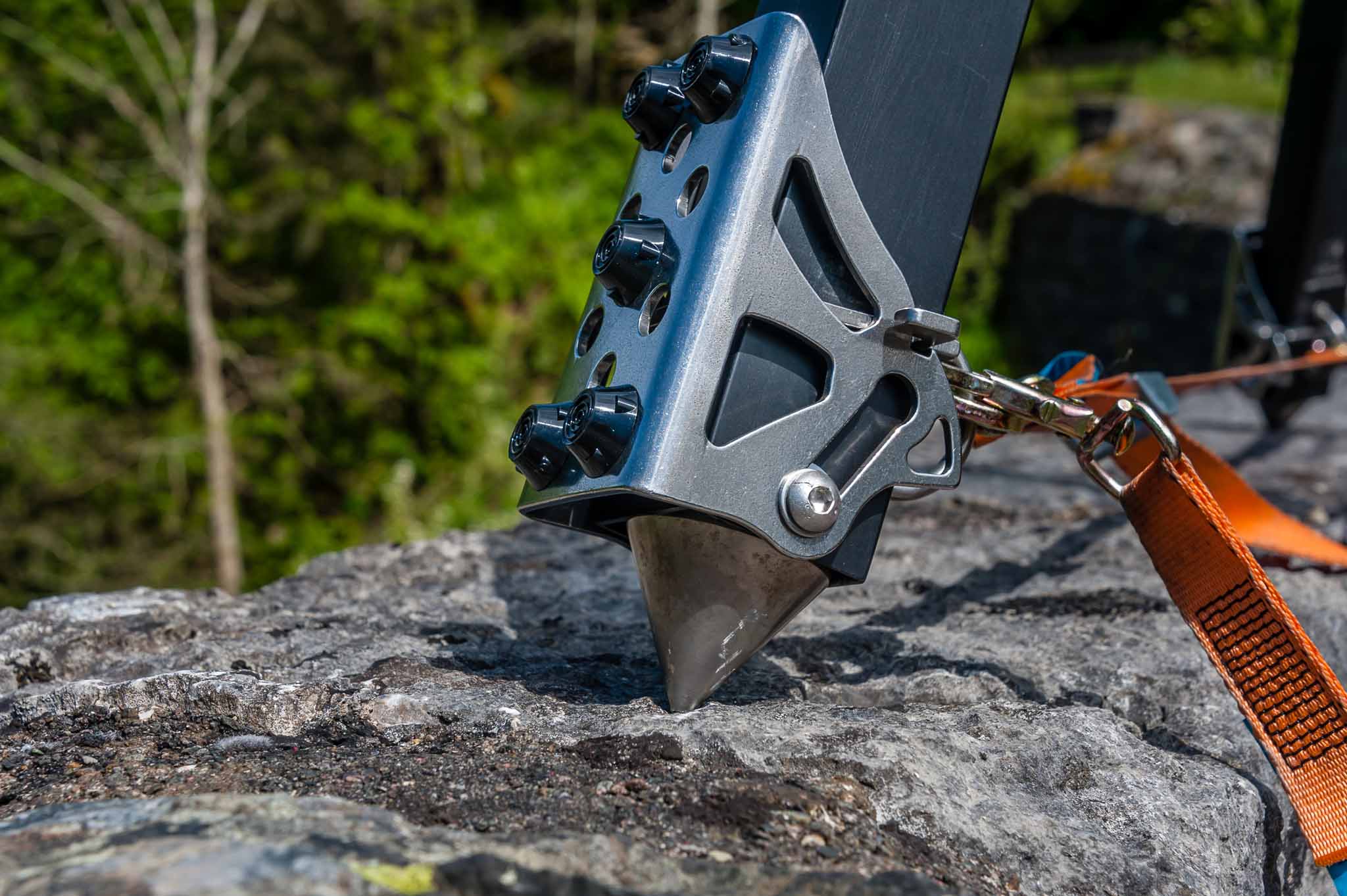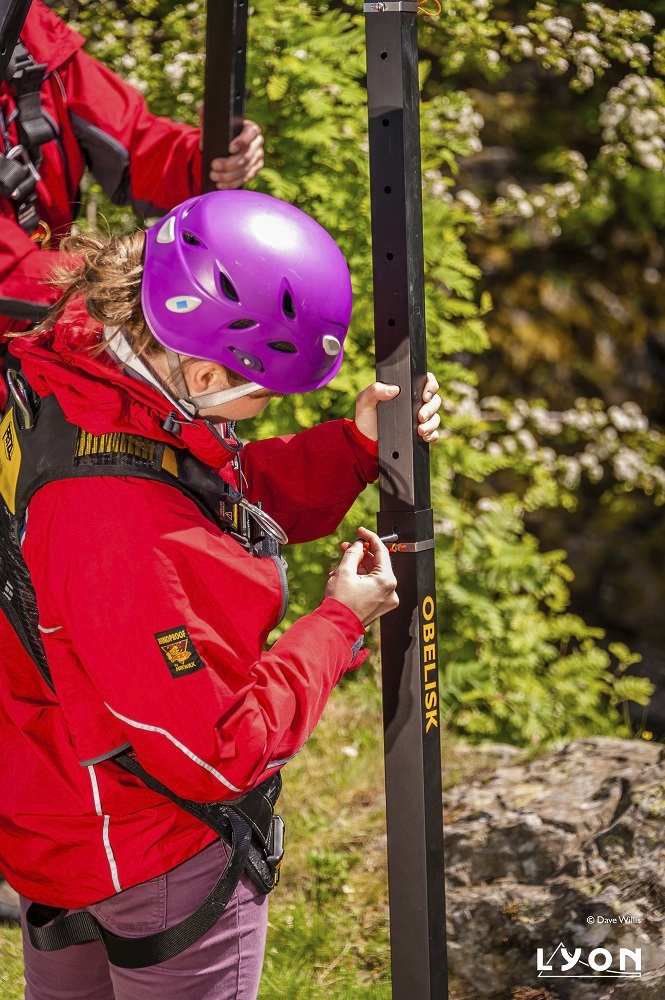 Conformity
EN 795:2012 type B (when used for a single person load)
CEN/TS 16415:2013 type B (when used for a two-person load)
Specification
Working Load Limit (dynamic load) single user up to 100kg, two people up to 200kg (refer to User Instructions)
Working Load Limit (static load) up to 272kg (refer to User Instructions)
Minimum Breaking Strength – single user 12kN, two people 13kN
2200mm maximum height (under swivel anchor point)
400mm maximum width (at cross-head)
22 kg (including accessories)
Materials
Body – stainless-steel
Legs – aluminium alloy
Locking pins – stainless-steel
Leg restraint straps – polyester
Leg restraint straps quick links – steel
Leg restraint straps adjustment buckles – aluminium alloy
Product options
300mm top-beam
Second carriage (anchor point). No more than two carriages are permitted for use with the 500mm top-beam
Transport/storage bag
Split transport bag (separates into two units for two person transport)
Replacement parts
300mm top-beam
500mm top-beam
Carriage (anchor point)
Strap set (4 straps)
Replacement pin – long (80mm)
Replacement pin – short (50mm)
Transport/storage bag
Split transport bag
Click this link for further details on the Lyon Equipment Obelisk